The Stockton Strong COVID-19 Response Fund
In response to significant community need in March 2020, the Stockton Strong COVID-19 Response Fund launched to help Stockton residents during this public health and economic crisis. The Fund, held at the Community Foundation of San Joaquin, leverages public-private partnerships, uses relevant data, and provides flexible funding resources to mitigate the effects of COVID-19 for the community's benefit.
Nonprofit Letter of Interest
About the Stockton Strong Fund
The Stockton Strong Fund partners with trusted community organizations to address a host of challenges, and it is focused on issues that fall into two key buckets: being a good neighbor and empowering small businesses. 
We define "being a good neighbor" as supporting our low-income, food-insecure, and unhoused families who are most severely affected — in partnership with the nonprofit partners that serve them. 
"Empowering small businesses" means supporting our highly impacted small businesses and their workforces, which will be adversely impacted by having to shut down or minimize.
The Stockton Strong Fund in Action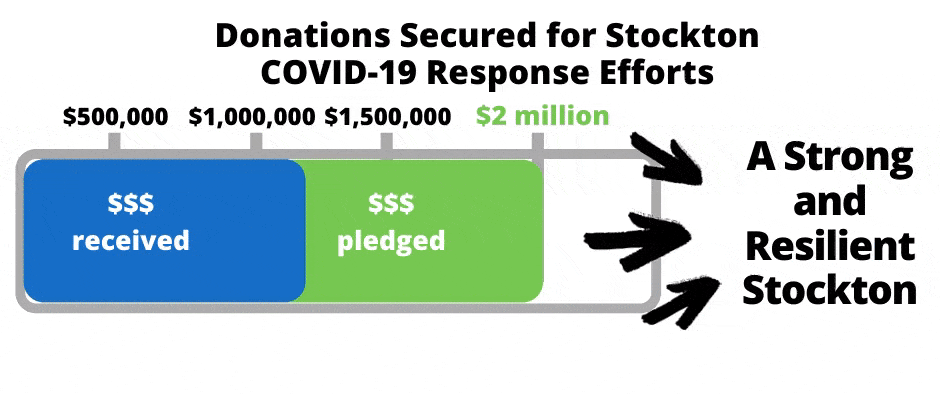 Current Donors (Direct Contribution & In-Kind)
Financial Center Credit Union
California Community Foundation
Abbott Fund
Cooks Venture
California Healthcare Foundation
The Harry and Jeanette Weinberg Foundation
California Healthcare Foundation
Vanguard
Edible Schoolyard Project (In-Kind)
KIND Bar (In-Kind)
Bank of America Foundation
The James Irvine Foundation
Michael P. Duffy Family Fund
Prologis Management
Wells Fargo Foundation
Gurdwara Sahib Stockton Community (In-Kind)
San Francisco Foundation
Being a Good Neighbor – Nonprofit grants
From April to July 2020, StocktonStrong issued grants of up to $10,000 to nonprofits that need help providing services to vulnerable residents during the COVID-19 pandemic. This cash infusion is important for our nonprofits, which are doing more work with less and having to serve more people. Thus far, a total of $270,000 has been granted to over 50 nonprofit organization.
Empowering Small Businesses
In May and June 2020, Stockton Strong partnered with the City of Stockton and Main Street Launch to institute Stockton's first round of COVID-19 Small Business Relief Grants — supporting 168 small businesses with $3,000 grants. The Stockton Small Business Relief Program provided financial assistance and temporary relief for local small businesses and entrepreneurs that were adversely impacted by COVID-19. For-profit businesses that qualified for a $3,000 grant used for inventory, working capital (e.g. rent, payroll, utilities), and/or equipment.
Mother's Day Grants
In May 2020, Stockton Strong contributed $25,000 to provide 120 single mothers in Stockton $500 gift cards for Mother's Day in partnership with the Women's Center – Youth and Family Services, the Child Abuse Prevention Council, Mary Magdalene Community Services and the Family Resource and Referral Center.  Fox 40 News coverage, here. 
Juneteenth Capital Initiative
In August 2020, Mayor Michael Tubbs launched a grant funding initiative in response to the systemic racial injustice that disproportionately affects the Black and African American communities. The $165,000 seed fund included contributions from Bank of America, A.G. Spanos Companies, and Stockton Strong to distribute $5,000-$20,000 grants to 14 black-operated and serving nonprofit organizations that faced increased need by the COVID-19 pandemic.  Stockton Record article, here. 
Stockton Strong Holiday Giving
In December 2020, Stockton Strong announced $27,000 in Holiday Giving grants to six nonprofit organizations serving Stockton families in the holiday season. The Emergency Food Bank, Community Medical Centers, Child Abuse Prevention Council, the African American Chamber of Commerce, The Factory Foundation, and S.T.A.N.D. were granted funds to support their holiday gift and food distribution programs as their typical holiday donations decreased due to COVID-19. 
Powering Homes, Empowering Families
In December 2020, Stockton Strong fund contributed $25,000 in utility assistance with the Powering Homes, Empowering Families initiative in partnership with Mayor Tubbs' office and community organizations, Fathers and Families of San Joaquin, El Concilio, the Women's Center, and Mary Magdelene Community Services to help distribute the funds to residents. In the Central Valley, household gas consumption increases 200% during the winter season and, this year, many families who had already been financially impacted by COVID-19 were burdened by utility bills.
Stockton Strong Fund Recipients
Nonprofit Recipients
Restore the Delta, to facilitate the Stockton Sewing Circle for COVID-19 masks

Lord's Gym of Stockton, to support with community food distribution

United Sikh Movement, to sustain a community food pantry

PUENTES, to support the establishment of home gardens

Mary Graham Children's Foundation, to provide emergency assistance to former foster youth pursuing higher education

Victory in Praise Church, to give direct microgrants to community members to aid in meeting food, housing, and other needs; to sustain youth programming

Tuleburg Press, to pivot to online creative writing programs

Bread of Life, to expand free supplemental food program

San Joaquin County Hispanic Chamber Foundation, to launch a Virtual Business Resource Center

Children's Museum of Stockton, to fund a re-launch of the Children's Museum when it is safe to do so

El Concilio, to create a Homeless Prevention fund and distribute food baskets to food-insecure stakeholders

Mexican Heritage Center, to cover core operating costs and keep the Center open in the absence of regular fundraising events

Stockton2020, to fund the Print to Protect Coalition mask 3D printing efforts

Gospel Center Rescue Mission, to implement additional training and support for staff members to comply with best practices in the time of COVID-19

A Tavola Together Foundation / Stockton Community Kitchen, to produce and deliver 300 hot meals every work day

HIS RAFT, to purchase a new truck to continue distributing food to smaller food pantries

Jene Wah, Inc, to provide healthy meals to Chinese-American Senior Citizens

Fathers & Families of San Joaquin, to continue food distribution programs
In addition, thanks to the generosity of Financial Center Credit Union and the Duffy Family Fund, a total of 25 organizations received $1,000 grants. For a full list of grantees, please inquire at info@stocktonstrong.org.
Small Business Grant Recipients
A wide range of small businesses received $3,000 grants from our Stockton strong COVID-19 Emergency Response Fund. For the long list of recipients, click here. 
Details of the Stockton Strong Fund
Fund Oversight
The Stockton Strong Fund is a vehicle for individuals and philanthropic partners to invest in solutions that address the impact of the COVID-19 related public health emergency in the City of Stockton. 
The Stockton Strong Fund is fiscally sponsored by the Community Foundation of San Joaquin ("CFOSJ"), a 501(c)3 nonprofit organization. CFOSJ is one of the largest, place-based public charities in San Joaquin County, stewarding more than $17 million in assets. CFOSJ serves as the philanthropic partner to individuals, families, nonprofits, and businesses in San Joaquin County. Its mission is to provide leadership, promote a culture of giving, and create resources that address the needs of our community.
CFOSJ (Community Foundation of San Joaquin) will provide due diligence and fiscal oversight of the Stockton Strong Fund based on financial practices that meet National Standards for U.S. Community Foundation set by the Council on Foundations. CFOSJ deposits all donations into the Fund and provides donors with charitable tax documentation. 
The Stockton Strong Advisory Committee will provide counsel and additional oversight to the process.
More information
Former Stockton Mayor, Michael Tubbs helped secure $2 million in private philanthropic, in-kind donations, and pledges to launch the Stockton Strong COVID-19 Response Fund.

If you're interested in learning more about the Stockton Strong COVID-19 Response Fund, email

info@stocktonstrong.org

.