The Stockton Strong COVID-19 Response Fund
In response to significant community need, Mayor Michael Tubbs has secured $2 million in private philanthropic and in-kind donations to launch a Stockton COVID-19 Response Fund to help Stockton residents during this public health and economic crisis. With these donations, Mayor Tubbs is launching the Stockton Strong Fund in concert with the Stockton Strong coalition. The Fund, held at the Community Foundation of San Joaquin, will leverage public-private partnerships, use relevant data, and provide flexible funding resources to mitigate the effects of COVID-19.
Nonprofit Letter of Interest
About the Stockton Strong Fund
The Stockton Strong Fund will partner with trusted community organizations to address a host of challenges, and it is focused on issues that fall into two key buckets: being a good neighbor and empowering small businesses. 

We define "being a good neighbor" as supporting our low-income, food insecure and unhoused families who are most severely affected — in partnership with the nonprofit partners that serve them. 

<span">Empowering "small businesses" means supporting our highly impacted small businesses and their workforces, which will be adversely impacted by having to shut down or minimize.</span">
The Stockton Strong Fund in Action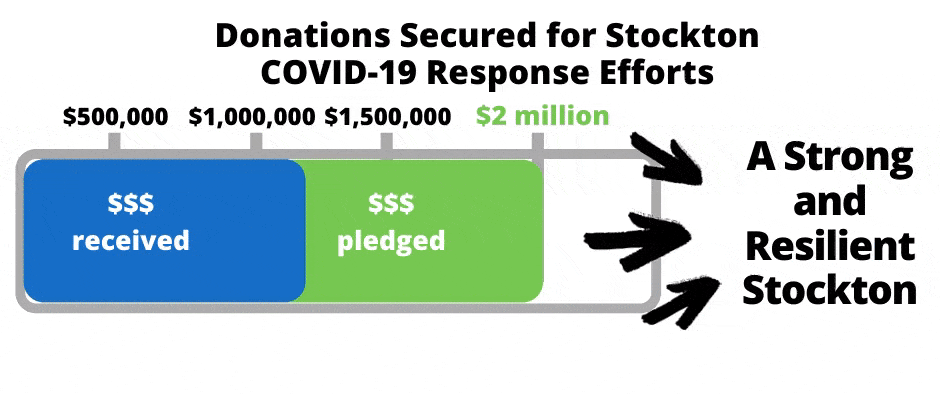 Current Donors (Direct Contribution & In-Kind)
Financial Center Credit Union
California Community Foundation
Abbott Fund
Cooks Venture
California Healthcare Foundation
The Harry and Jeanette Weinberg Foundation
California Healthcare Foundation
Vanguard
Edible Schoolyard Project (In-Kind)
KIND Bar (In-Kind)
Bank of America Foundation
The James Irvine Foundation
Michael P. Duffy Family Fund
Prologis Management
Wells Fargo Foundation
Gurdwara Sahib Stockton Community (In-Kind)
San Francisco Foundation
Nourish Stockton: Enabling Emergency Food Access
The Stockton Strong Fund has launched Nourish Stockton, a partnership with Edible Schoolyard Project to provide locally sourced fresh, organic produce to Stockton's seniors (65+). 
So far, Nourish Stockton has delivered thousands of pounds of food to hundreds of seniors. Community members will continue to deliver more than 2,000 pounds of food to vulnerable individuals and families each week, particularly seniors. 
If you or someone you know is experiencing food insecurity, please fill out this

food survey

or call 209-252-0423.
Being a Good Neighbor
Status: Thank you for your interest in our Stockton Grant Application. Due to high demand, we are no longer accepting applications.
The Stockton Strong Fund aims to support nonprofits that need help providing services to vulnerable residents during the COVID-19 pandemic. 
The Stockton Strong Fund has begun accepting Letters of Interest from nonprofits that need help providing services to vulnerable residents during COVID-19. 

Please note: Letters of Interest are not considered applications for funding. 
To be eligible for Fund support, nonprofits' primary service population should be located within Stockton city limits. Organizations must be 501(c)(3) organizations including faith-based organizations, and demonstrate a track record of robust programming and services for Stockton residents.
Letters of Interest for the first and second round of grants have been accepted. Those nonprofits that are extended an invitation to apply for the first round should receive funding disbursements by the end of April. Any follow-on rounds will disburse after. Note: due to the high number of applications received, disbursements will occur one to two weeks later than originally planned. 
We expect the average grant to range in size from $5,000 to $10,000, for those nonprofits that are extended an invitation to apply. Exact amounts will depend on resources available and the collective need in the community.
For nonprofits to access the Letter of Interest, please login – or create an account if necessary – on the CFOSJ website

Select "Stockton Strong COVID-19 Response Fund"
Empowering Small Businesses
Status: Thank you for your interest in our Stockton Grant Application. Due to high demand, we are no longer accepting applications. 
The Stockton Small Business Relief Program is intended to provide financial assistance and temporary relief for local small businesses and entrepreneurs that have been adversely impacted by COVID-19. For-profit businesses may qualify for a $3,000 grant that can be used for inventory, working capital (e.g. rent, payroll, utilities), and/or equipment. Grants will be issued to eligible businesses on a first-come, first-served basis, until all funds have been provided to businesses within the city of Stockton.
Stockton Strong Fund Recipients
Nonprofit Recipients
Restore the Delta, to facilitate the Stockton Sewing Circle for COVID-19 masks

Lord's Gym of Stockton, to support with community food distribution

United Sikh Movement, to sustain a community food pantry

PUENTES, to support the establishment of home gardens

Mary Graham Children's Foundation, to provide emergency assistance to former foster youth pursuing higher education

Victory in Praise Church, to give direct microgrants to community members to aid in meeting food, housing, and other needs; to sustain youth programming

Tuleburg Press, to pivot to online creative writing programs

Bread of Life, to expand free supplemental food program

San Joaquin County Hispanic Chamber Foundation, to launch a Virtual Business Resource Center

Children's Museum of Stockton, to fund a re-launch of the Children's Museum when it is safe to do so

El Concilio, to create a Homeless Prevention fund and distribute food baskets to food-insecure stakeholders

Mexican Heritage Center, to cover core operating costs and keep the Center open in the absence of regular fundraising events

Stockton2020, to fund the Print to Protect Coalition mask 3D printing efforts

Gospel Center Rescue Mission, to implement additional training and support for staff members to comply with best practices in the time of COVID-19

A Tavola Together Foundation / Stockton Community Kitchen, to produce and deliver 300 hot meals every work day

HIS RAFT, to purchase a new truck to continue distributing food to smaller food pantries

Jene Wah, Inc, to provide healthy meals to Chinese-American Senior Citizens

Fathers & Families of San Joaquin, to continue food distribution programs
In addition, thanks to the generosity of Financial Center Credit Union and the Duffy Family Fund, a total of 25 organizations received $1,000 grants. For a full list of grantees, please inquire at info@stocktonstrong.org.
Small Business Grant Recipients
A wide range of small businesses received $3,000 grants from our Stockton strong COVID-19 Emergency Response Fund. For the long list of recipients, click here. 
Details of the Stockton Strong Fund
Fund Oversight
The Stockton Strong Fund is a vehicle for individuals and philanthropic partners to invest in solutions that address the impact of the COVID-19 related public health emergency in the City of Stockton. 
The Stockton Strong Fund is fiscally sponsored by the Community Foundation of San Joaquin ("CFOSJ"), a 501(c)3 nonprofit organization. CFOSJ is one of the largest, place-based public charities in San Joaquin County, stewarding more than $17 million in assets. CFOSJ serves as the philanthropic partner to individuals, families, nonprofits, and businesses in San Joaquin County. Its mission is to provide leadership, promote a culture of giving, and create resources that address the needs of our community.
CFOSJ (Community Foundation of San Joaquin) will provide due diligence and fiscal oversight of the Stockton Strong Fund based on financial practices that meet National Standards for U.S. Community Foundation set by the Council on Foundations. CFOSJ deposits all donations into the Fund and provides donors with charitable tax documentation. 
The Stockton Strong Advisory Committee will provide counsel and additional oversight to the process.
More information
If you're interested in learning more about the Stockton Strong COVID-19 Response Fund, email

info@stocktonstrong.org

. 
Questions about the Governor's Stay at Home Order?
For consistent updates, please visit covid19.ca.gov.
What's closed?
Dine-in restaurants 

Bars and nightclubs 

Entertainment venues 

Gyms and fitness studios 

Public events and gatherings 

Convention Centers

Hair and nail salons 

Places of worship and cultural ceremonies, like weddings and funerals

Offices for non-critical infrastructure sectors

Shopping malls

Wineries and tasting rooms

Movie theaters 

Family entertainment centers (for example: bowling alleys, miniature golf, batting cages and arcades)

Zoos and museums

Cardrooms
Please click here for a Frequently Asked Questions (FAQ) from the California State Government in English and in Spanish.

Want to support #STOCKTONSTRONG?
Your donation will fund relief programs designed to support
vulnerable workers, small businesses, and senior residents who are in quarantine.