Let's keep #StocktonStrong
COVID-19 Vaccine Information
For San Joaquin County COVID-19 Vaccine information, click here & see phase schedule below.
For more COVID-19 Vaccination locations, click here.
For state information on the COVID-19 Vaccine, click here.
Sign-up for Vaccination Notifications, click here.
Status of COVID-19 in our County and State
For access to data on COVID-19 in San Joaquin County, click here.
For access to Hospitalization data in San Joaquin County, click here.
For access to statewide COVID-19 data, click here. 
For status of activities, visit the California Blueprint for a Safer Economy by county, click here 
Stay-at-home Orders
Regional Stay at Home Order – has been lifted. For more information click here (1/25/2021)   
For information on San Joaquin County status in Purple Tier Widespread Risk, click here. (11/16/2020)
COVID-19 Testing For All Residents
 For a complete list of COVID-19 testing sites in San Joaquin County, click here (English) or here (Spanish). For more testing information visit SJReady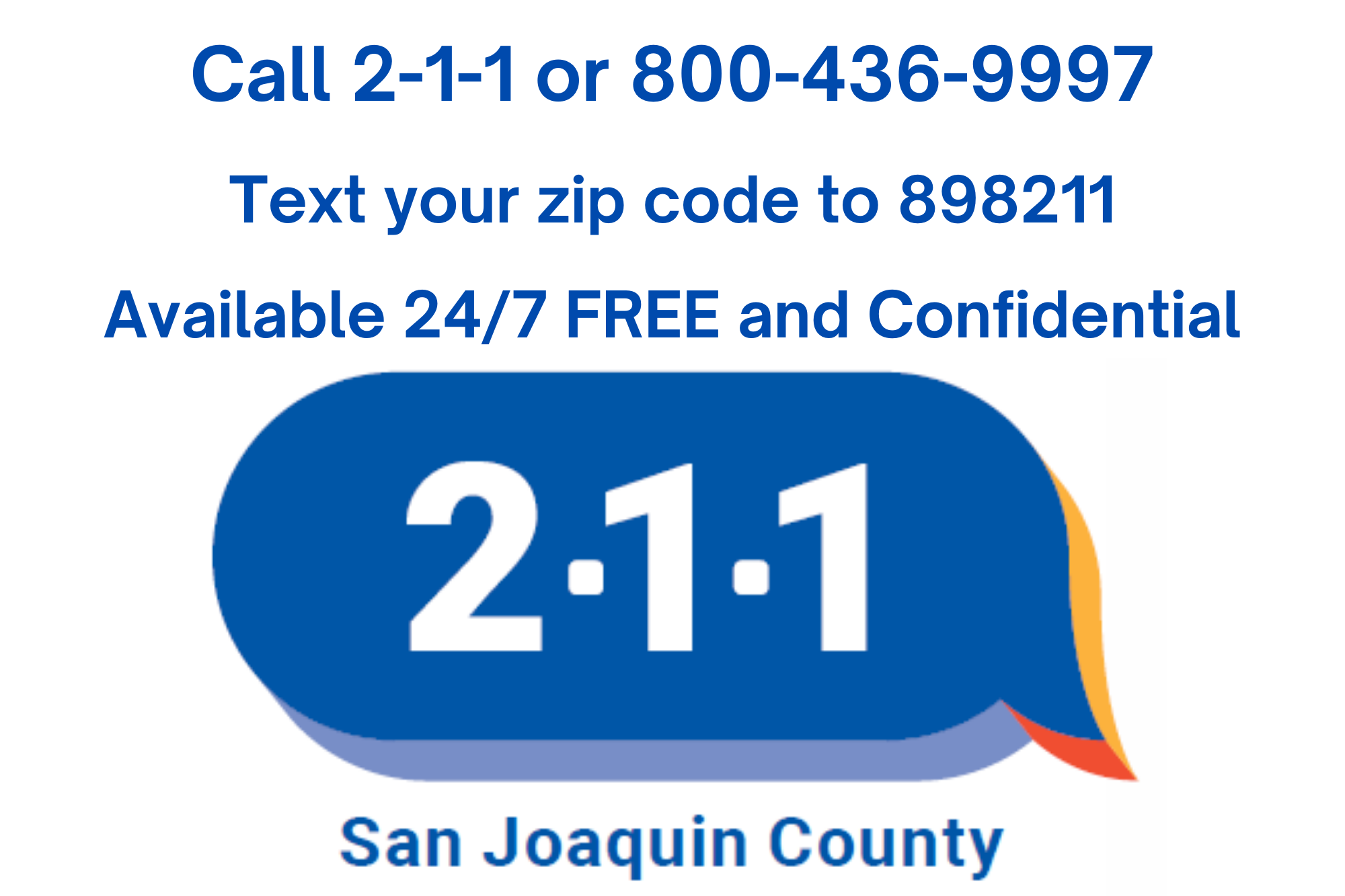 Stockton Strong is working collaboratively to get you quick access to resources:
Mobile access to our site 24/7
Text your zip code to 898211 receive information about COVID-19 in our community or  "covidsj" to 888777 to sign up for San Joaquin County COVID-19 updates.
 Call 211 or 800-436-9997 to talk to a live person-trained specialist 24/7 who can connect you to everything from food resources to medical transportation.
I'm worried about income
I'm worried about food
I'm worried about childcare or my child's education
I'm worried about my housing situation
I'm worried about my or my loved one's mental health
I'm worried about my or my loved one's physical health
I am a veteran/veteran caregiver who is looking for resources
I want to volunteer
I'm worried about my small business
We want to volunteer resources
Stay at Home
On March 19th, 2020, the State of California issued a stay at home order, requiring all residents to remain in their dwellings except to get food, care for a relative or friend, get necessary health care, or go to an essential job. Because COVID-19 is spread through contact with others, social distancing is a crucially important public health intervention that can help stop coronavirus transmission. Learn More.
#BuyStockton
Shop locally to provide businesses to coffee shops and restaurants while practicing social distancing and other precaution protocols like hand-washing and sanitizing. You can find a current list of open Stockton Restaurants at Dine Stockton. Many of these restaurants use delivery services like Grubhub, Ubereats, Postmates, or Doordash.
If You Are Sick
Stay home and limit contact with others as much as possible (this includes pets). Symptoms for COVID-19 include fever, cough and shortness of breath. Contact your healthcare provider immediately and tell them you may have COVID-19. Follow CDC recommendations.