Donate.
During these unprecedented times, civic and community leaders are stepping up to help lessen the impact of the COVID-19 virus on the health of our community - but we need your help. The Community Foundation of San Joaquin, in partnership with United Way of San Joaquin, has established a San Joaquin Emergency Response Fund, which they have seeded with an initial $75,000 investment. The Fund is intended to be responsive to the changing, long-term needs of our community, with an immediate focus on supporting nonprofit organizations serving the most vulnerable populations and to provide financial assistance to individuals and families most directly impacted by COVID-19. We invite you to donate to this fund, or if interested in specific issue areas, to the organizations below.
Donate to the COVID-19 Emergency Response Fund

Community Foundation of San Joaquin makes philanthropic giving as effective as possible. We are a public charity ready to serve people who share a common concern – improving the quality of life in San Joaquin County.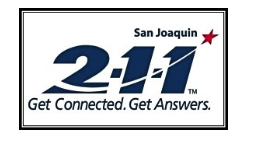 "I need help paying my rent." "My mom turned 85 and really needs help right now." "My kids are hungry. I have no cash. Where can I get food?", I am feeling sick, where do I go to get tested? … These are just some of the questions we answer when people in need call 211. 211 San Joaquin (211SJ) connects all San Joaquin County residents to the help they need when they need it; 24 hours a day, 7 days a week in over 200+ languages.