Donate.
During these unprecedented times, civic and community leaders are stepping up to help lessen the impact of the COVID-19 virus on the health of our community - but we need your help. The Community Foundation of San Joaquin, in partnership with United Way of San Joaquin, has established a San Joaquin Emergency Response Fund, which they have seeded with an initial $75,000 investment. The Fund is intended to be responsive to the changing, long-term needs of our community, with an immediate focus on supporting nonprofit organizations serving the most vulnerable populations and to provide financial assistance to individuals and families most directly impacted by COVID-19. We invite you to donate to this fund, or if interested in specific issue areas, to the organizations below.
Donate to the COVID-19 Emergency Response Fund

Community Foundation of San Joaquin makes philanthropic giving as effective as possible. We are a public charity ready to serve people who share a common concern – improving the quality of life in San Joaquin County.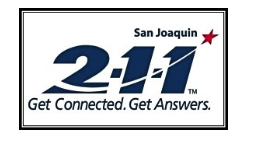 "I need help paying my rent." "My mom turned 85 and really needs help right now." "My kids are hungry. I have no cash. Where can I get food?", I am feeling sick, where do I go to get tested? … These are just some of the questions we answer when people in need call 211. 211 San Joaquin (211SJ) connects all San Joaquin County residents to the help they need when they need it; 24 hours a day, 7 days a week in over 200+ languages.
San Joaquin County WorkNet Resources
The Workforce Development Board of San Joaquin County is offering financial relief for workers during COVID-19. 
Workers that have been terminated, laid off, had a reduction of hours or are self-employed and unable to work due to COVID-19 are eligible for up to $800 in supportive services. Click Here to learn more, or call 209-468-3660. 
English Language Learner Grant Program is available to assist assist English Language Learners/Immigrants seeking employment-related skills, and services necessary to overcome barriers to employment, and embark on a career pathway. Click here to learn more, or call 209-468-3109.
Access the new Supervisorial District Fund
Each Supervisorial District recently received $3 million each. This new funding can be used to reimburse costs to Health Care partners, small businesses that have experienced business interruption due to the COVID-19 public health emergency, and other COVID-19 related expenses. This definition may also extend to nonprofits.
Please connect with your Supervisor via email or phone (click here) so you may learn more about how you can access the dollars: 
If you live in District 1 – Supervisor Villapudua, mvillapudua@sjgov.org
If you live in District 2 – Supervisor Miller, kmiller@sjgov.org
If you live in District 3 – Supervisor Patti, tpatti@sjgov.org
If you live in District 4 – Supervisor Winn, cwinn@sjgov.org
If you live in District 5 – Supervisor Elliott, belliott@sjgov.org
If you're not sure which Supervisorial District you live in, then please use this district lookup tool.
Update on Coronavirus Stimulus Payments
The IRS has begun sending payments to taxpayers nationwide. Most people won't need to take any action if they are eligible for payment. To check your payment status, visit their site.
Has your employment status changed, or are you working less hours because of COVID?
If you have lost your job or your employer has reduced your hours because of COVID-19,
UI provides partial wage replacement benefit payments to workers who lose their job or have their hours reduced, through no fault of their own (including because of COVID-19). Eligible individuals can receive benefits that range from $40-$450 per week.
If you are an entrepreneur or independent contractor who needs support,
You can apply for Pandemic Unemployment Assistance (PUA).The PUA benefits are payable if an individual doesn't qualify for regular UI benefits in California or another state and also does not qualify for State Disability Insurance or Paid Family Leave benefits. For more details, click here.
If you are looking for a new job now, 
Amazon is hiring in Stockton. To apply, text STOCKTONNOW to 77088 for job alerts or visit amazon.com/centralvalleyjobs.
Stockton Unified (SUSD) is hiring. Take a look at their open roles here.
San Joaquin County WorkNet provides great resources for job seekers, including programs specifically designed for getting you back to work. Click here to learn more.
CalJOBS is supporting the people of California in getting back to work. Search for job listings in your area here.
If you are unable to work due to having or being exposed to COVID-19,
file for Disability Insurance (DI).
DI provides short-term benefit payments to eligible workers who have a full or partial loss of wages due to a non-work-related illness, injury, or pregnancy. Benefit amounts are approximately 60-70 percent of wages (depending on income) and range from $50-$1,300 a week.
If you are unable to work because you are caring for an ill or quarantined family member,
file for Paid Family Leave (PFL).
PFL provides up to six weeks of benefit payments to eligible workers who have a full or partial loss of wages because they need time off work to care for a seriously ill family member or to bond with a new child. Benefit amounts are approximately 60-70 percent of wages (depending on income) and range from $50-$1,300 a week.
For more information, visit the California Employment Development Department.
If you are an immigrant who needs financial assistance, 
You can apply for Disaster Relief Assistance for Immigrants (DRAI), a one-time state-funded disaster relief payment for undocumented adult immigrants impacted by COVID-19 and who are not eligible to receive funds from the CARES Act federal stimulus payments or from pandemic unemployment benefits. An undocumented adult who qualifies can receive $500 in direct assistance, with a maximum of $1,000 in assistance per household.
You can begin your application with CRLAF by calling this toll-free number: 877-557-0521.
If you are concerned about COVID-19 financial scams,
CRC (California Reinvestment Coalition) has developed a helpful infographic in English and Spanish to alert people on how they can protect themselves and their loved ones from scammers and bad actors. Vulnerable communities are disproportionately targeted by financial predators. 
Avoid COVID-19 Scams [English]
If you are a farmer, rancher, producer, or you have a rural-based business, 
The US Department of Agriculture (USDA) has created a COVID-19 Federal Rural Resource Guide that be can be used to provide immediate and long-term assistance to rural communities affected by COVID-19. 
Questions about the Governor's Stay at Home Order?
For consistent updates, please visit covid19.ca.gov.
What's closed?
Dine-in restaurants 

Bars and nightclubs 

Entertainment venues 

Gyms and fitness studios 

Public events and gatherings 

Convention Centers

Hair and nail salons 

Places of worship and cultural ceremonies, like weddings and funerals

Offices for non-critical infrastructure sectors

Shopping malls

Wineries and tasting rooms

Movie theaters 

Family entertainment centers (for example: bowling alleys, miniature golf, batting cages and arcades)

Zoos and museums

Cardrooms
Please click here for a Frequently Asked Questions (FAQ) from the California State Government in English and in Spanish.

Want to support #STOCKTONSTRONG?
Your donation will fund relief programs designed to support
vulnerable workers, small businesses, and senior residents who are in quarantine.